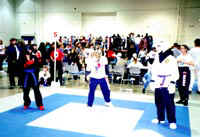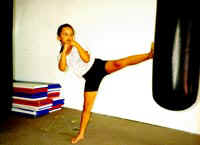 "THE PRACTICAL MARTIAL ART"
Welcome to The American Kickboxing Website
American Style Kickboxing is an awesome form of self-defense. Kickboxing is easy to learn and very practical. It is very important for beginning martial artists to learn and develop good form with their skills. If a student learns bad technique, he or she will be vulnerable if attacked. The student's skills must also be perfected by sparring with other students. By sparring with other students, a student's skills will be much more effective in a street altercation. If a student is training at the right place, this can be done safely, and it can be a lot of fun. Aerobic Kickboxing is very popular at many gyms. This type of training is dangerous because a student will have a false belief that they have developed self-defense skills. This type of training is only for a student who is not interested in learning Martial Arts. American Kickboxing is a studio for students interested in learning "real" kickboxing. Students learn and develop practical fighting skills. Many of the students at American Kickboxing have had to use their training to defend themselves against street violence.
Once students have developed good skills, they are allowed to enter competitions. Go to the Competitions link to see a schedule of up-comming kickboxing competitions, or go to the Tournament link to see a schedule of martial arts tournaments. Competing can be fun for a well-trained student. Competing is totally voluntary.
Many classes are available at American Kickboxing for students interested in training. Go to the Class Schedule link to see a schedule of classes. Students can schedule appointments as their schedule permits. Eighty percent of the students are girls, many of them teenagers. Guys and girls classes are separated. Students are welcome to try a free class to experience the power of Kickboxing.
This Website will describe various styles of Martial Arts. There are photos and videos of students and competitions. Enjoy this Website, and feel free to e-mail the instructor if you have any questions.
Thanks,